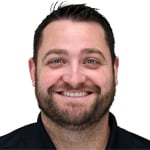 Thane Kennedy
Product Manager
If you are a permanent jewelry artist, the Argon Mini is the GOAT!
The Argon Mini makes working pop-up's much easier by making argon available wherever you're working.
The Argon Mini is a small tank, measuring only 11.75 inches in length and 2.75 inches in diameter, providing compressed argon gas needed for permanent jewelry artists to close a link or jump ring with a strong, clean weld. The tank is small enough to fit in a purse, backpack, or the Permanent Jewelry Welder Carrying Case. The Argon Mini holds enough argon to complete approximately 650 welds and weighs 2.7 pounds.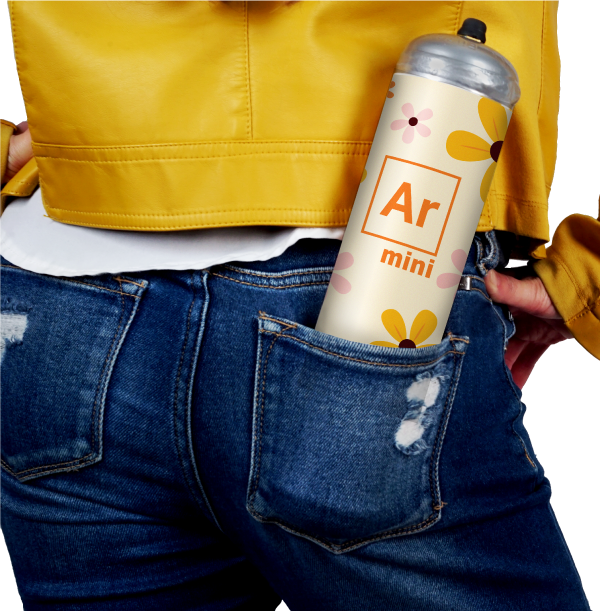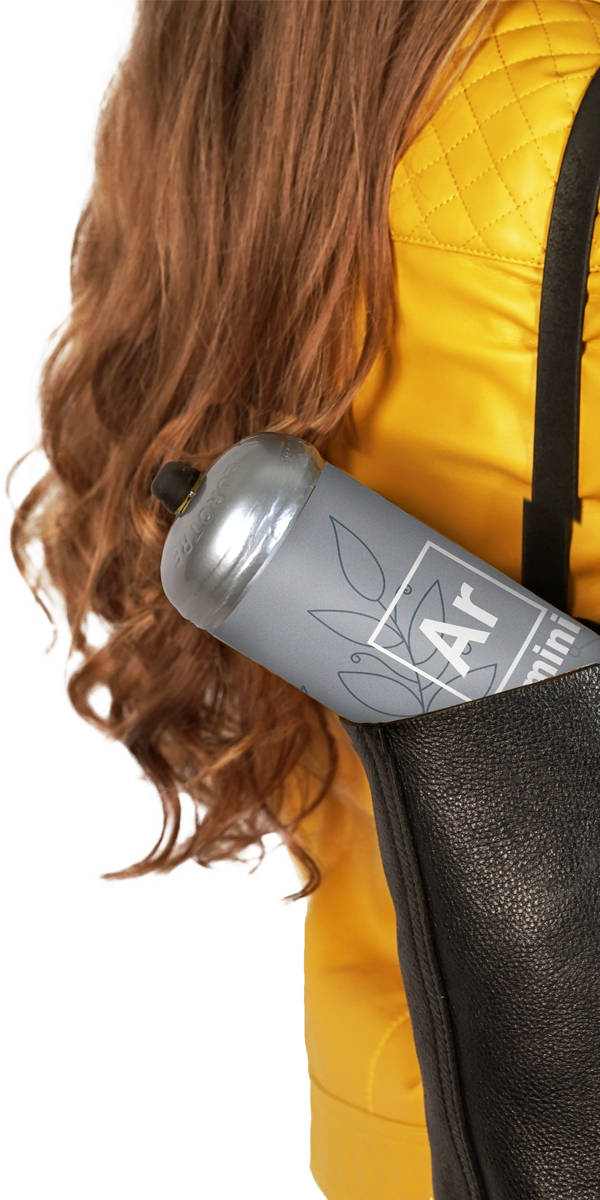 You're going to love the size! Literally, this argon tank will fit in your back pocket, which may feel a bit uncomfortable but helps me make this point: It's small and portable. You now have easy access to argon no matter where you may be working.
Argon is a must as it creates a cleaner, stronger weld. Argon is used as a shielding gas and incorporated into Sunstone's pulse arc welding technology. Argon is used to protect the molten pool of metal against elements in the atmosphere including oxygen, nitrogen, and hydrogen. These elements cause reactions with the molten metal, such as porosity and increased weld spatter. Argon also plays an important role in maintaining arc stability, which leads to increased weld penetration and better weld appearance. Sunstone's premium argon is 99.996% pure argon (argon 4.6). Professional PJ artists use argon, separating the sheep from the GOATs.
The Argon Mini is available in packs of 2, 4, 6, and 8. Pricing starts at only $145 for a two-pack. The price per tank lowers when the purchase quantity increases. Click Here to See Pricing. Every Argon Mini shipment, regardless of how many tanks are included, requires an additional $45 hazardous material fee mandated by the shipping carrier. The fee is part of the price.
Purchasing Tip: The hazardous material fee is per shipment, NOT per tank. You'll save money when you order more tanks in one shipment. Argon is not a poisonous gas—it doesn't smell or have any color. In fact, argon is the third most abundant gas in Earth's atmosphere, behind oxygen and nitrogen. The shipping carrier treats the Argon Mini as a hazardous material because the contents of the tank are pressurized.
The Argon Mini is designed for one-time use only. The tank cannot be refilled. However, the tank can be recycled with a local metal recycler. To that point, Sunstone encourages you to recycle all depleted tanks.
Customers will need the Mini Regulator to fit the Argon Mini's specific nozzle, which is available from Sunstone. The regulator only needs to be purchased once. When a tank is depleted, the regulator is removed and placed on a full tank.
Customers can purchase the Argon Mini online Here or call +1 801-658-0015. The Argon Mini will also be on display at the Permanent Jewelry Expo, or PJX.
PJX is the only high-energy educational and networking event for permanent jewelry artists and business owners, scheduled for May 30-June 1, 2023 at Caesars Palace. PJX is home to must-have education, invaluable connections, and goal-driven motivation. Plus, PJX boasts the largest marketplace for chain, jump rings, charms, findings, training, tools, welders, and business services, all focused on the permanent jewelry business. Additional information and registration can be found at www.pjexpo.org