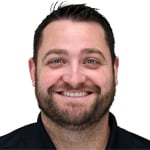 Thane Kennedy
Product Manager
Sunstone's new electrode sharpening solution, called the Pilot, helps permanent jewelry artists, bench jewelers, and engineers clean and sharpen Orion tungsten electrodes with ease and precision.
The Pilot is the combination of a precise sharpening guide attached to the top of a premium, cordless rotary tool. When an electrode requires cleaning or sharpening, the operator inserts the electrode into a guide slot. With the Pilot at full speed, a diamond grinding wheel enclosed within the sharpening guide cleans and precisely sharpens the electrode to the desired angle. The Pilot saves sharpening time and produces a perfectly sharpened electrode.
"The Pilot makes having a clean and sharp electrode an easy and quick thing to do," said Jonathan Young, CEO at Sunstone. "A clean electrode sharpened at just the right angle always delivers a better weld. With the Pilot, you can sharpen an electrode in seconds and be confident in the results time after time. The Pilot is a true time-saver plus helps you weld with more accuracy and confidence. For permanent jewelry artists or others who may be less familiar with micro welding, the Pilot makes you a better welder almost immediately."
The Pilot's sharpening guide provides a foolproof process to clean and sharpen Orion tungsten electrodes, for either the 1.0 mm or 0.5 mm diameter variants. With only one guiding slot on the guide itself, learning to use the Pilot takes less than a minute.
The Pilot is powered by a 3.6-volt cordless rotary tool with a lithium ion battery, providing many hours of use and easily recharged with a single USB power cable. You can select from three different speeds, although the fastest speed is recommended for best results. A soft, contoured plastic housing provides a comfortable, dependable grip during operation. Measuring less than eight inches in length and two inches in diameter, the Pilot will easily slip into one of your bench drawers, a carrying case for when you're at an event, or your apron pocket. And its orange housing makes the Pilot easy to find when needed quickly.
What I Like Most
What I like most about the Pilot is how much time it saves when I need to sharpen. Before the Pilot, I had to be keep a close eye on the electrode tip as it hits the diamond grinding wheel. Am I at the right angle? Did I sharpen all sides evenly? Oft times, without the Pilot, I'm grinding an electrode, looking at the results, then grinding again, the looking at the results. With the Pilot, I place the electrode in the guide slot, grind away, and I'm done. That saves a lot of time, provides an expert result, and every weld looks sharp.
The Pilot retails for $75 and is available for purchase online.